Confucius institute in Bratislava (CIB) was founded in the year 2007 on the basis of the agreement between Tianjin University and Slovak University of Technology in Bratislava, with support of Chinese governmental organization Hanban.
There are other partners who were at the foundation of the Institute and who enabled teaching of Chinese by CIB, as University of Economics in Bratislava, Agricultural University in Nitra and Matej Bel University in Banská Bystrica.
Our goal is to enable to Slovak students and people to learn basics of Chinese, to learn Chinese culture and customs. We wish to build an imaginary bridge that connects both nations.
Wide offer of Courses
we offer high quality lectures for people of different age and education level
Cultural Events
to convey experiences how to better know a rich Chinese culture
Internationally Recognised Certificates
to enable as many students as possible to pass exams, which will open door to Chinese universities and exchange trips
Cooperation with Chinese Universities
aimed at specific projects and formation of a joint research teams
Library
a lot of teaching material, films, books – all for you, all in original versions
Consulting
regarding education, culture, cooperation possibilities, exchange trips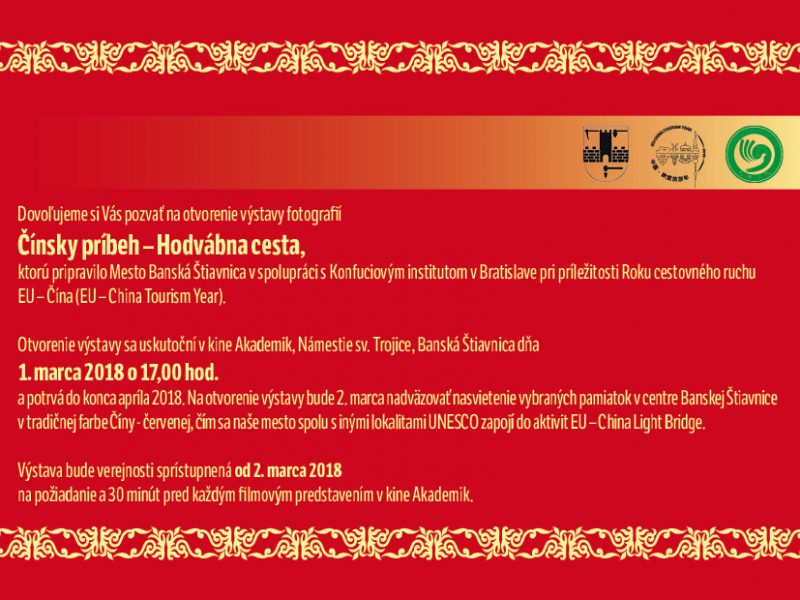 Od 1. marca 2018 do konca mája 2018 pripravilo mesto Banská Štiavnica, v spolupráci s Konfuciovym inštitútom v Bratislave výstavu fotografií o Číne, ktorú si môže prísť pozrieť aj široká verejnosť.
Pri príležitosti čínskeho nového roka, roka Psa, ktorý sa začal 16.2.2018 sa uskutočnilo stretnutie lektorov a študentov Bilingválneho gymnázia v Banskej Bystrici. Tejto aktivity sa zúčastnilo 60 študentov. Cieľom akcie bolo lepšie pochopiť čínske tradície a kultúru pre ďalšie vzdelávanie sa v čínskom jazyku. V príjemnej atmosfére si mohli študenti vyskúšať svoje zručnosti pri príprave … Read More
Posledný januárový týžden 2018 sa konal týždeň čínskej kultúry a aktivít na bratislavskom gymnáziu GAMČA. Počas týždňa sa mohli študenti oboznámiť s čínskou kultúrou. Prvý deň začal slávnostným otvorením za prítomnosti čínskeho veľkyvslanca J.E. Lin Lin a zástupcov Konfuciovho inštitútu v Bratislave. Počas celého týždňa sa študenti mohli oboznámiť s písaním čínskych znakov, vystrihovaním z … Read More